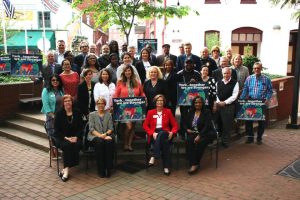 The CRC moves from talk to action through five work groups: Education, Economic Equity, Inclusive Leadership, Racial Bias, and Welcoming Communities. Bring your talents and interests and join a CRC work group.
Each CRC work group is comprised of participants who have determined the following first year goals:
Education
Develop a survey which would be provided to all schools in the county to assess demographics that will help determine needs.

Provide comprehensive education and information on the county education system as it relates to funding.
Economic Equity
Launch Major Employers Council to implement best practices for diverse talent attraction and retention and the creation of more welcoming and inclusive workplaces.
Launch small business development programming to create opportunities for small and diverse businesses, and to increase the amount of locally owned Minority Business Enterprises. 
Inclusive Leadership
Create resource guide of diversity-related resources and work available for use by others.
Develop a training series geared to leaders, boards and school administrators addressing the understanding and challenges of biases and how to be welcoming to all. This will accompany the toolkit for organizations.
Racial Bias
Create and provide trainings on diversity, implicit bias, and cultural competency
Identify and implement both short term and long-term objectives to increase diversity in the police force.
Welcoming Community
Organize a community response network to decry acts that harm or demean others.
Develop a campaign to promote the Confronting Racism Coalition's work and the theme: York…Together We Are Stronger.